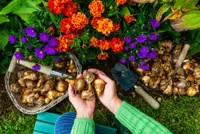 Gardening means planning ahead sometimes. So if you want to have a bright colourful garden next spring, autumn is the time to plant your Spring flowering bulbs.
When do you plant Spring flowering bulbs?
You can plant them now! Autumn is an excellent time for planting when the ground is still warm and before it cools down towards the end of the year. The seasonal changes in temperature determine the growing cycle of your bulbs, so try to get them into the ground as soon as possible after buying them in September or October. This lets your bulbs experience the falling autumn temperatures followed by the long cold winter. Different varieties respond to different temperature patterns; early flowerers such as Snowdrops and Crocus emerge in late winter, whilst other varieties flower at different times during spring.
How to plant Spring flowering bulbs
It's not hard to plant bulbs, everybody can do it and with the following tips you can make sure you do it the right way!
Plant the bulbs at two to three times their depth. Place the bulbs in the hole with their 'nose', or shoot, facing upwards.
After planting the bulbs, close the hole and press it down a little.
Flower bulbs can be planted simply with a bulb planter or trowel.
It's a good idea to loosen the soil well before planting so that the flower bulbs can easily root.
If you have heavy soil, a handful of grit can help with drainage.
If the ground is dry, you may water your bulbs after planting, but take care not to soak them.
Care tips for your bulbs
Spring flowering bulbs are amongst the easiest plants you can grow! See how easy it is:
It is best to plant the flower bulbs immediately after purchase. If you want to wait a little longer, make sure that you store your bulbs in a cool and dry place such as a shed or basement.
If you're storing the bulbs, check them every now and then to ensure they don't go soft or mouldy.
If you're planting into dry soil, give them just enough water so that they can develop roots and survive the winter well.
Get ready for Spring with Elmwood Garden Centre
Visit our garden centre in Bristol in autumn and you'll get lots of ideas about Autumn gardening. At Elmwood Garden Centre you will find a large selection of Spring flowering bulbs.