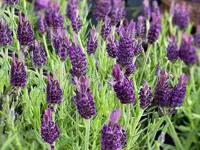 Fragrant plants fill your garden with their pleasing scents, and many are attractive to bees and other pollinators. Read on for our top 5 favourite fragrant garden plants!
The benefits of fragrant plants in the garden
Fragrant plants are often attractive to pollinators and help repel pests like aphids and whiteflies. So whilst you enjoy the aroma, you might also have a natural deterrent to pests.
1. Honeysuckle
Honeysuckle is a real favourite with our plant team. Choose your Honeysuckle variety for its sweet, fruity and florals scents, and the flower colour that works best for you. One of the easiest climbing plants to grow, Honeysuckle has been a real favourite with gardeners - and pollinators - for centuries.
2. Lavender
One of the most popular and well-known fragrant plants, Lavender has a gorgeous delicate, sweet scent. Lavender tends to be most aromatic in the morning before the warm daytime temperatures encourage the scent to diffuse. An excellent plant for attracting pollinators, and great for fending off pests. You can dry out the flowers and leaves of your lavender and then use them to make a natural insecticide that is great for repelling aphids and whiteflies. Lavender comes in several colours, including blue, purple, and white. It's a versatile plant and easy to grow, so it's definitely a great choice for beginners.
3. Nemesia
Nemesia is a stunning and colourful flowering plant with a beautiful and sweet scent. It's easy to grow and excellent for beginners since it is so easy to care for. A versatile plant available in a wide variety of different colours, including white, yellow, red, yellow, and orange, so there's something for everyone. The names often indicate the type of scent - for example 'Wisley Vanilla' is one of our favourites producing masses of delicate white flowers with a very definite vanilla scent. Check out the scent of the different varieties next time you're in the garden centre and choose your favourite!
Nemesia can be grown in borders, but it's also a perfect choice for people who don't have a lot of space in their garden because it grows very well in containers. Like our other favourite fragrant flowers, pollinators love Nemesia, helping support the local ecosystem.
4. Jasmine
Jasmine is another fragrant tropical plant that may require some protection in winter, depending on the variety you choose. It's well known for its exquisite scent and beautiful flowers, which come in various colours. Jasmine is a creeper that can grow up to 10 feet tall, so it's best to plant it in a pot or in the ground if you don't have a lot of space in your garden. Easy to care for, Jasmine is an excellent choice for beginners and a good option if you've never grown a fragrant plant before.
5. Lilac
Lilac is another beautiful and fragrant flowering plant that is great for beginners. Lilac can be grown as a small tree or as a shrub and you'll find a huge variety of beautiful colours, including blue, purple, pink, red, and white. It also has a long flowering period: it blooms in late spring and early summer. A slow-growing, compact tree or shrub with oval leaves and dense clusters of fragrant flowers, Lilac can be used in borders or even as a hedge.
Buy fragrant plants at our garden centre
Fragrant plants are an excellent choice for any gardener, whether you're a newbie or a seasoned expert. They're super easy to care for, and come in a wide range of beautiful and delicious scents, so you're sure to find something you love. And best of all, they make great gifts, so they're the perfect thing to give to friends and family who love gardening too!