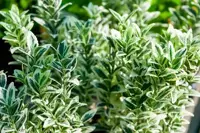 In case you are looking for a shrub to create a hedge or would like something strong and green added to your garden, a spindle bush might be able to help you out! In case you have spindle bushes in your garden already, or are thinking of getting one, we have some great tips for you. Keep your spindle bush in tip-top condition with these tips from the garden plants team!
Tip 1: Soil
The soil is the foundation of every garden plant, and Euonymus or spindle bush loves a loose, moist and nutrient-rich soil. So, churn up the soil. For the best gardening tools for this job, you can always ask our experienced team for advice.
Tip 2: Pruning
It is best to prune the spindle in winter. During this period, you can easily see which branches should be cut away or shortened, to keep its shape. We have great pruning tools available, in case you need some!
Tip 3: Supplementary nutrition
You can fertilise the plant once a year. Preferably after pruning, so it can quickly regain its strength. A boost is great for the plant to get some extra energy and create a higher level of resistance against pester or diseases.
Tip 4: Water
A newly planted spindle needs a little extra care when it comes to watering. During dry periods, you should water it in the evenings. Once its roots are deep enough, it will be able to get enough water itself. In heat waves, however, it is always wise to give the garden extra water.
Tip 5: Location
Where will you plant your spindle? Depending on the amount of sun and light, the plant will become more colourful. In the shade, the colour will remain more neutral. That's actually quite great, so you can pick your preference. What will your choice be?
Getting a spindle bush
A spindle bush is a great and strong shrub in any garden. When you are looking for a good hedge or for some more green, year round, in pots, both ways work for this plant. In case you would like to have a look at our selection of spindle bushes or have any questions regarding it, please feel free to contact our staff. They are happy to help you!