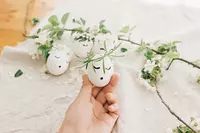 These Easter gardening tips will help you to make sure your Easter weekend is full of plants, nature and the great outdoors. No matter what the weather, by the time Easter comes around, spring is well and truly on the calendar and it's one of the busiest times of year in the garden. From sowing to potting on and hardening off, mulching and weeding there's no shortage of jobs to be getting on with outside in your garden. We've put together our top Easter weekend jobs to help you get your garden off to a great start this year plus a few fun projects too.
Build a pond for wildlife
Starting your seeds off
Prepare beds for growing
Easter egg hunt for fun
Build a pond for wildlife is our top Easter gardening tip
Why not get outside and make something both beautiful for your garden and a wonderful way to increase biodiversity? Ponds can be made for any size space, and even made from a bucket on a balcony! Ponds should be situated where there isn't a lot of leaf fall and where they aren't in full shade all day long so the water doesn't become stagnant. Pre made ponds can be dropped into a hole you have pre dug or you can dig a hole the size you would like and lay a liner in before filling with rain water. Let the frogs and other wildlife find your pond, when you have filled it with stones and aquatic plants.
Easter gardening tips includes starting your seeds off
As the weather warms up, it's time to start seed sowing and there's no better time than Easter weekend. At this time of year, rip open the seed packets, prepare your seed trays and get your seed compost ready. It's time to sow many seeds from beetroot to carrots, lettuce, leeks, peas and spinach. Enjoy an afternoon of seed sowing in the garden. Continue to keep them well protected until they are stronger and hardened off before planting out in the weeks to come when the weather is warmer.
Prepare beds for growing is one of our Easter gardening tips
You'll soon be planting out so clearing your beds of weeds, old plants and anything else is a good place to start and then layer on some well rotted organic matter. Doing this now means the soil will be ready for planting out at just the right time.
Easter gardening tips has to include an Easter egg hunt for fun
What would Easter in the garden be without an Easter egg hunt! Find all the best spots in the garden and hide your Easter prizes. Hide them in wellington boots, by the shed, in a watering can with plants and seeds as prizes!
Come get your Easter gardening plants and seeds from us in store over the Easter weekend.