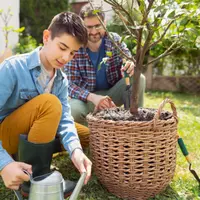 Father's Day is fast approaching, and what better way to celebrate your dad than by showering him with gifts that resonate with his love for gardening and handyman skills? If your father is a proud garden lover and has a passion for all things green, we have curated a list of unique and thoughtful gift ideas that are bound to put a smile on his face. At Elmwood garden centre, we have a wide range of fantastic gifts that will make this Father's Day one to remember. Let's explore these wonderful ideas and find the perfect present for your green-thumbed hero!
Gifts for handy dads
Gardening Tools and Equipment: Every gardener needs a reliable set of tools to maintain their garden oasis. Surprise your dad with a high-quality set of gardening tools, including sturdy secateurs, a durable trowel, a reliable garden fork, and a well-crafted watering can. These essentials will make his gardening experience more enjoyable and efficient.
Personalised Gardening Apron: Give your father a personalised gardening apron to add a touch of style to his gardening routine. Customised with his name or a heartfelt message, this thoughtful gift will make him feel extra special while keeping his clothes clean and his tools at hand.
Gifts for relaxed fathers
Garden Decor: Enhance your dad's outdoor haven with beautiful garden decorations. Consider gifting him a charming birdhouse, a decorative sundial, or even a whimsical garden gnome. These unique additions will add a touch of personality and charm to his beloved garden space.
Outdoor Seating: After a hard day's work in the garden, every gardener deserves a comfortable spot to relax and enjoy the fruits of their labour. Surprise your dad with a cosy outdoor chair or a stylish garden bench where he can unwind, sip a cup of tea, and bask in the beauty of his garden.
Gardening Books and Magazines: For dads who love to expand their gardening knowledge, a selection of informative gardening books or a subscription to a gardening magazine will make an ideal gift. These resources will provide inspiration, tips, and tricks to help him take his gardening skills to the next level.
Gifts for dads that are chefs
Herb Garden Kit: If your dad has a passion for cooking as well as gardening, a herb garden kit is the perfect gift. These kits usually include seeds, pots, soil, and instructions for growing an array of aromatic herbs. Your father will be delighted to add homegrown flavours to his culinary creations.
Gifts for green fathers
Compost Bin: Help your dad embrace sustainability in his gardening endeavours by gifting him a compost bin. Not only will it reduce waste, but it will also provide nutrient-rich compost for his plants. This eco-friendly gift will showcase your father's commitment to a greener lifestyle.
This Father's Day, celebrate your dad's love for gardening and handyman skills with a special gift from our garden centre. Whether it's a set of gardening tools, personalised accessories, garden decor, or educational resources, these thoughtful presents are sure to make him feel appreciated and cherished. Don't miss the opportunity to show your green-fingered hero how much you love and admire him. Happy Father's Day to all the amazing garden-loving dads out there!