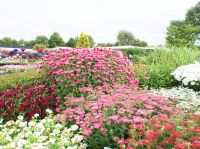 Gardening can be a solitary hobby but we all love admiring our hard work and sharing it with others. From next year we're hoping to start a new feature on our website called 'Community Corner' where we will be showcasing all your hard work. Whether you've grown your first tomato, planted up a beautiful hanging basket or landscaped a whole new garden we want to see it and share it with others. We hope that it will help give other keen gardeners inspiration and encourage others to try new and challenging gardening styles.
Email us on hello@elmwoodgardencentre.co.uk or if you follow us on social media feel free to send us a direct message. More information about our social feed can be found on our 'Get Social' page, https://www.elmwoodgardencentre.co.uk/get-social
If you share any pictures of your gardening on your own social media then tag us in the pictures or use that hashtag #elmwoodnurseryandgc and we'll share your creations.
Get snapping and send us some pictures in!