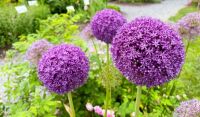 Our top 5 alliums to grow have been picked from the many Allium varieties available for gardeners that are all lovely bulbs and bloom into some of the most wonderful of all spring bulbs. The balls of lilac, white and even slightly blue or green are a must-have for any garden from a cottage style to something more contemporary. These top five will fill your garden with pretty colourful spring and early summer colours each year.
Allium 'Hair'
Allium 'Art'
Allium 'Purple Sensation'
Allium 'Gigantium'
Allium 'Globemaster'
1. Allium 'Hair'
This Allium is both interesting and freaky all in one! The flower head looks like a mop of hair sticking up and all over the place, but even with that description, we can guarantee you they are gorgeous and most definitely a talking point in the garden. It's a great choice of allium.
2. Allium 'Art'
Another fascinating allium with unique flower heads that look like crazy hair. They are indeed a piece of art! These alliums flower between May to June, and Allium 'Art' is an exceptional addition to any garden border.
3. Allium 'Purple Sensation'
This Allium is most definitely one of the more popular alliums. With tall stems and deep purple flower heads, which are made up of many star-shaped flowers. They look great in garden borders or pots and containers. Don't forget allium foliage dies back before the flowers fully form, so ideally, you'll want to plants something around them to hide the faded leaves.
4. Allium 'Gigantium'
Gigantium alliums have bright globes of purple florets and on stems as high as 1.5m. They are stunning in any garden as the deep globe colour contrasts perfectly with the paler green leaves.
Planted in swathes in a garden border or dotted about in amongst other plants.
5. Allium 'Globemaster'
Globemaster has won many awards for its huge flower heads of star-shaped violet flowers that grow up to 25cm in a cluster. It's a stunning variety that flowers for a long period, and the seed heads look just as great in the garden as well if you leave them.
How to plant Alliums
Alliums are attractive for bees and other pollinators and easy to grow. Plant them during autumn in well-drained soil, and don't forget to label where you have planted them, so you don't dig them back up again. They need to be planted about 4 times the bulb's diameter directly in the garden or a container. Your garden will be awash with lilac during the following spring, and you will be so pleased that you planted them. Why not choose from some of our top 5 and get your garden ready for next spring.
We have a selection of spring bulbs in store, so please do come along and visit us.